2022 - 2023 Adler Catalog
2022 - 2023 Adler Catalog
---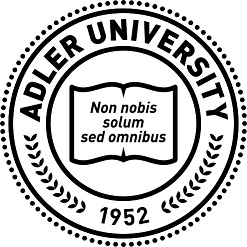 CHICAGO CAMPUS
17 North Dearborn Street
Chicago, IL 60602
Phone: 312.662.4000
email: 

[email protected]

VANCOUVER CAMPUS
520 Seymour Street
Vancouver, BC V6B 3J5
Phone: 236.521.2500
email: 

[email protected]

ONLINE CAMPUS
17 North Dearborn Street
Chicago, IL 60602
Phone: 312.662.4058
email: 

[email protected]
---
The University: An Overview
Adler University educates students to make real and lasting change to create a more just society. Established in 1952, the University continues the pioneering work of Alfred Adler, the first community psychologist, and offers academic programs for social change at its Chicago, Vancouver, and Online campuses.
Adler University prepares students to be socially responsible practitioners who engage communities and advance social justice during their course of study and later professional lives.
Students directly engage communities - through over 1,500 community partnerships, Adler Community Health Services, and training relationships - to advance social justice and gain experiential training in socially responsible practice.
Adler's institutes for social change bring attention to social justice within the University and promote it beyond through engaging communities in a variety of programming.
Campus Facilities
CHICAGO CAMPUS
Adler University
17 North Dearborn St.
Chicago, IL 60602
312.662.4000
adler.edu
Adler University's downtown Chicago facility is the location for its Chicago Campus and the leadership and administration of the Online Campus. It boasts LEED Gold certification for environmental innovation and provides students with classrooms equipped with state-of-the-art smart technology, a library with dedicated space for instructional support, Mediascape collaborative workspaces, a wellness studio for yoga, meditation, and relaxation, and many other features supporting wellness and a collaborative learning environment.
The Chicago Campus is easily accessible by bus, train, or automobile and features secure bicycle storage facilities. Located near campus are several prestigious colleges and universities, government centers, public libraries, lakefront parks, theater and shopping districts, and museums.
Major tourist attractions include the Art Institute of Chicago, Water Tower Place, Navy Pier, Auditorium Theater, Chicago Theater, Oriental Theater, Willis Tower, Shedd Aquarium, Adler Planetarium, and the Field Museum of Natural History.
VANCOUVER CAMPUS
Adler University
520 Seymour St.
Vancouver, BC V6B 3J5
Canada
236.521.2500
adler.edu
The Vancouver Campus is a state-of-the-art facility in downtown Vancouver. LEED Gold certified, it is comprised of 30,500 square feet on five contiguous floors of the building. The campus is highly functional, supports the culture of the University, and maintains the identity of the community within. It has considerable open space for collaboration and movement that creates a positive student experience and connections among students, faculty, and staff while supporting the technological requirements of future generations.
In addition to these features, the campus's building includes underground parking, a workout/yoga studio, and a rooftop terrace. The campus is also close to regional transit. Access to the Canada Line, SkyTrain, and SeaBus is within two blocks of the facility, and many of the city's central bus routes converge close to campus.
ONLINE CAMPUS
Adler University
17 North Dearborn St.
Chicago, IL 60602
312.662.4058
adler.edu
The Online Campus brings together Adler's fully online degree programs under one virtual campus, enabling students to earn advanced degrees wherever they live. Online classes are limited in size to ensure students receive focused faculty attention, mentoring, and academic support. Coursework is developed and delivered by faculty who are qualified experts in their disciplines, as well as trained in online instruction to meet the industry standards for effective online course design. Administration and staff affiliated with the Online Campus are housed in the Chicago Campus facility..
Mission, Values, and Vision
The University continues the pioneering work of Alfred Adler, the first community psychologist, by graduating socially responsible practitioners, engaging communities, and advancing social justice.
The values held by Adler University as relevant to its mission are:
Social Interest: We are part of and invested in community, and we act and collaborate with compassion and social responsibility.
Pluralism: We respect and celebrate human diversity and difference.
Courage: We encourage leadership, innovation, and creativity, act on principle, and challenge the status quo.
Excellence: We embrace the highest level of quality, rigor, and integrity for education, scholarship, performance, and outcomes.
Pragmatism: We are outcome-oriented and evidence-based, and we pursue real-world solutions and measurable results.
The University's vision is to be the leading academic institution advancing socially responsible practice, healthy communities, and a more just society.
Socially Responsible Practice
Today's social challenges demand highly trained, relevant, and inventive practitioners to address them. No other institution prepares practitioners in the way Adler University does because we are uniquely and specifically informed by Alfred Adler's ideas and constructs. Gemeinschaftsgefühl - Adler's concept of social interest, or the relationship between health and community - is the foundation upon which we engage in the work of social justice and preparing practitioners to work in communities.
The ability to engage in socially responsible practice is a required competency in all Adler degree programs. Attainment of this competency is achieved through practical training, coursework, and other activities. The Social Justice Practicum (SJP) offers students a broad range of community-based experiences. Classes provide information on theories and research on the effects of structural and systemic variables on human well-being, and educational and community engagement activities and programs through Adler Community Health Services, the Department of Community Engagement, and the University's institutes and centers provide students with opportunities to learn how to identify and address a wide range of clinical and social issues.
Organization and Governance
Adler University is a private, independent, nonprofit institution of higher education. The University is incorporated in and operates under the provisions of the State of Illinois General Not-For-Profit Corporation Act and is declared a 501(c)(3) tax-exempt organization by the U.S. Department of the Treasury. The University is extra-provincially registered under the laws of British Columbia as Adler University.
Rights Reserved
This catalog and its contents are not to be construed as a binding contract between Adler University and the student. The catalog presents the offerings and requirements in effect at the time of publication. Adler University may amend, without prior notice, the policies or procedures as stated in this catalog, Adler University handbooks, and other documents. These changes include, but are not limited to, changes in admission or academic requirements, rules, policies and procedures, tuition, fees, curricula, courses, course content, and graduation requirements. Changes to the University's policies, procedures, and requirements affect all students who have not yet graduated. Clarification of matters in this catalog or institutional handbooks can be obtained from the directors of the appropriate administrative or academic departments and offices.
While always working to communicate changes that affect its learning community, the University may make such changes as necessary and with or without advance notice. Degree and course offerings and requirements are continually under examination, and revisions are expected.
Adler University reserves the right to refuse to admit or readmit any applicant and to dismiss any student at any time who fails to give satisfactory evidence of academic or clinical ability, earnestness of purpose, acceptable student conduct, or active cooperation in all requirements for acceptable program completion.
Diversity
Celebrating the richness of human diversity is at the heart of Adler University's commitment to social responsibility and is reflected in the content of curricula and makeup of the community. Apparent differences in race, ethnicity, language, religion, values, beliefs, abilities, class, sexuality, gender, and age are woven into the fabric of excellence at Adler University. At every level of our organization, we invite and embrace the diversity of faculty, staff, students, sponsors, trustees, vendors, and our wide range of business partners.
The curricula for all programs provide the opportunity for students to acquire knowledge, skills, and values related to individual and group diversity. Field placements for clinical training are available in areas where the clientele is partly or primarily from traditionally underserved communities.
---